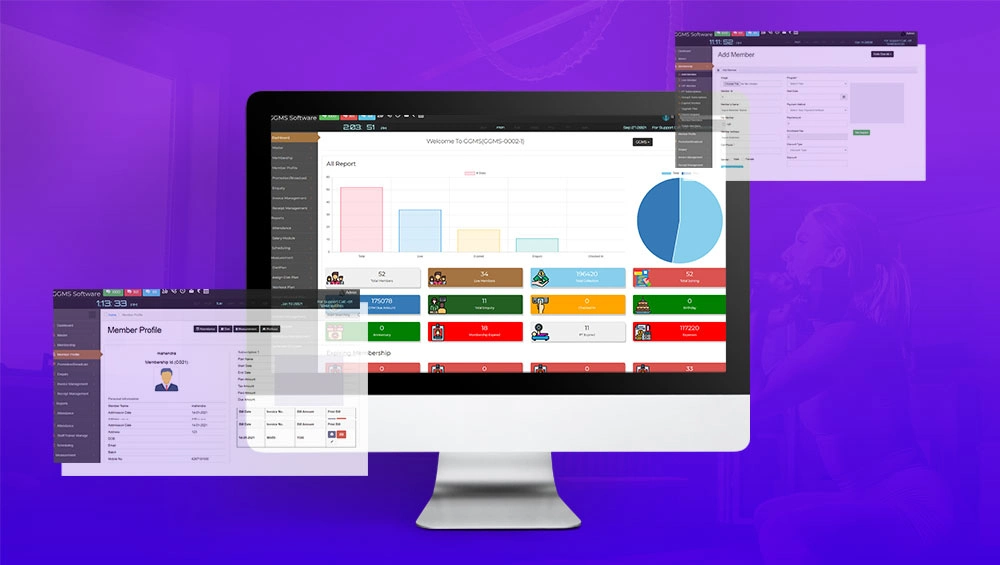 Perfect Dashboard
Attractive Dashboard With with all key reports required also it is customisable. On dashboard you will get complete membership record, collection record, Enquiry and follow-ups, event report, due record, and this makes GGMS more usefull for gym or club owners. Whether you started a new gym, or planning to start a gym, your business can be easily gulped or beaten by old fish and smart competitor you already have in market so you will need a perfect strategy to encounter the or outsmart them to run your business perfectly or professionally. To achieve that, one should use latest tools available in market to achieve growth which include data analysis, digital marketing as in SEO, SMO, Email, SMS and WhatsApp marketing. To make any business successful, we need better management. Hence Gym Management Software is must have for a gym growth.

Gym Management Software has many pros like it can help with Automated Communication and event notification tool, event managing is significant activities of every firm like client and candidate date of birth reminder, customer attendance database management, automated email scheduling for every special event, automated mobile SMS reminder for upcoming event. So automated and reminder tool is the vital requirement of the ever. It can also help with Membership Management, biometric integration can help monitoring well. Also well managed data can help with good customer relationship as we can focus on customer properly.
CRM integration in Gym Management Software will help get more traction to business as there will be 0% chance to lose any pre-sale enquiry. Also Gym Management software will help you with most accurate reporting, Reporting is the main phases of every management, so for perfect management of the whole gym activities, reporting customization plays the vital role to run the health club perfect and by the perfect reporting, timing, scheduling payment management can be printed. Customize reporting is to be the main tool for gym Management software without reporting you can't get the best business revenues. Hence this way, we can conclude that Gym Management software plays vital role in Growth and to make growth for your business smartly.